Points for prevention of New coronavirus infections (March 8, 2023) 感染症予防についてのポイント(令和5年3月8日)
[公開日:2023年3月23日]
[更新日:2023年3月23日]
ID:10984

Points to prevent New coronavirus infections

Once again, please thoroughly implement basic infection control measures
Continue to carry out basic infection control measures and spend your daily life.
 [Basic infection control]
・Thoroughly implement basic infection control measures.
1. Hand washing and hand disinfection
2. avoiding crowds
3. Ventilation, etc. 
[In case of fever]
・Keep an antigen qualitative test kit, antipyretic analgesics, and daily necessities on hand.  
・Let's confirm the telephone consultation center.  
[Telephone consultation desk]
Shiga Prefectural Consultation Center: Phone 077-528-3621 (24 hours available )
Pediatric Emergency Telephone Consultation (Note 1) (Note 2): Phone 077-524-7856 or #8000
(Note 1) Eligible people are children under the age of 15 living in Shiga prefecture
(Note 2) Consultation hours are from 6;00 p.m. to 8;00 a.m. on weekdays and Saturdays, and from 9;00 a.m. to 8;00 a.m. on Sundays, public holidays, and year-end and New Year holidays.
  ⇒Shiga Prefecture HP: Prepare for vaccinations, New coronavirus antigen qualitative test kits, and antipyretic analgesics in this winter. (Open in a new window)
 [Multilingual] Shiga International Association Link: http://www.s-i-a.or.jp/references/835 
【When eating out】 
・When you eat out, please go to a certified restaurant.
・Take measures to reduce the risk of infection, such as wearing a mask during conversation, even during lunch / dinner.
・Please refrain from participating when you are not feeling well.
[About free inspection]
・Those who are asymptomatic and feel uneasy about infection should be tested by a free test provider.
⇒ Shiga Prefecture HP: [Limited to asymptomatic people] About taking PCR tests and antigen qualitative tests (Opens in a separate window)
https://www.pref.shiga.lg.jp/ippan/bousai/sougo/322797.html
【Others】
・ In order to boost your immunity, let's work on health promotion with the slogan "Mubyotan + 1", a character that promotes health promotion in Nagahama City.

Created by Shiga Prefecture From March 13, 2023, ``You can take off your mask!'' Image
You can take off your mask!
Created by Shiga Prefecture Prepare for vaccination, New coronavirus antigen qualitative test kit, Prepare antipyretic analgesics
Multilingual Shiga International Association Link: ttp://www.s-i-a.or.jp/references/835
Image file: Vaccination/New Corona Antigen Qualitative Test Kit
Created by Shiga Prefecture: For those at high risk of becoming seriously ill from the new coronavirus, and for children and their parents who cannot self-check (self-examination)
Multilingual Shiga International Association Link: ttp://www.s-i-a.or.jp/references/837
Image file: Persons at high risk of severe disease
Created by Shiga Prefecture: For those at low risk of severe illness from New coronavirus infections
[Multilingual] Shiga International Association Link:
http://www.s-i-a.or.jp/references/836

Image file: Persons with low risk of becoming severe from New coronavirus infections
※This winter, prepare vaccinations, New coronavirus antigen qualitative test kits, and antipyretic analgesics (Shiga Prefecture website, opens in a new window, Japanese)
https://www.pref.shiga.lg.jp/ippan/bousai/sougo/313693.html
※Shiga Prefecture Current infection prevention measures (Shiga Prefecture homepage) (Opens in a new window) (Japanese)
https://www.pref.shiga.lg.jp/ippan/bousai/sougo/313693.html 
※About wearing a mask (Ministry of Health, Labor and Welfare website) (Ministry of Health,
Labor and Welfare website, open in a separate window, Japanese)
https://www.mhlw.go.jp/stf/seisakunitsuite/bunya/kansentaisaku_00001.html
 ※"Shiga Prefecture Safe and Secure Store Certification System Created Together" (Shiga Prefecture Homepage) (Opens in a new window) (Japanese)
https://www.pref.shiga.lg.jp/ippan/bousai/sougo/318212.html
※"Consultation / Medical examination when you have symptoms such as fever" (Shiga Prefecture homepage) (Opens in a new window)
Japanese https://www.pref.shiga.lg.jp/ippan/kenkouiryouhukushi/iryo/314835.html 
English https://www.pref.shiga.lg.jp/ippan/kenkouiryouhukushi/iryo/316103.html

[Multilingual] Shiga International Association Link: http://www.s-i-a.or.jp/references/829
※Regarding the declaration of those who have been diagnosed with a new coronavirus infection at a medical institution and are not eligible for notification (Shiga Prefecture New Coronavirus Infection Diagnosis Counter)Opens in a separate window (Shiga Prefecture Homepage, Opens in a separate window/Japanese)
https://www.pref.shiga.lg.jp/ippan/kenkouiryouhukushi/yakuzi/327309.html
※Regarding the distribution of test kits to symptomatic and close contacts who are not at risk of becoming seriously ill (test kit distribution/positive person registration center) (Shiga Prefecture website, opens in a new window/Japanese)
https://www.pref.shiga.lg.jp/ippan/kenkouiryouhukushi/yakuzi/327003.html
※Regarding registration in the case that a self-test reveals a positive result (Test kit distribution/positive person registration center) (Shiga Prefecture website, opens in a new window/Japanese)
https://www.pref.shiga.lg.jp/ippan/kenkouiryouhukushi/yakuzi/327004.html
※[Limited to asymptomatic people] PCR test / Antigen qualitative test Open in a separate window (Shiga Prefecture website)
https://www.pref.shiga.lg.jp/ippan/bousai/sougo/322797.html
※List of inspection organizations that provide self-funded inspections (Ministry of Health, Labor and Welfare website)
https://www.mhlw.go.jp/stf/seisakunitsuite/bunya/kenkou_iryou/covid19-jihikensa_00001.html
※Efforts to prevent the spread of infection (Cabinet Secretariat homepage (opens in a new window)) 
https://corona.go.jp/proposal/

Nagahama Mubyoutan +1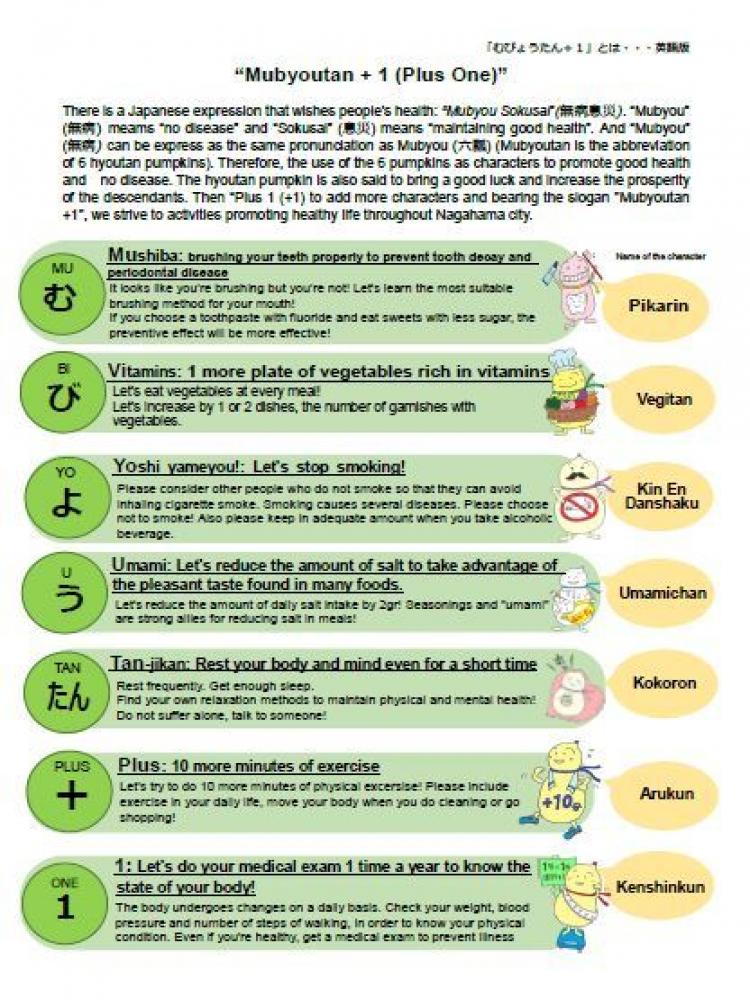 PDF Mubyoutan + 1 (Plus One)
お問い合わせ
長浜市市民協働部市民活躍課
電話: 0749-65-8711
ファックス: 0749-65-6571
電話番号のかけ間違いにご注意ください!
---